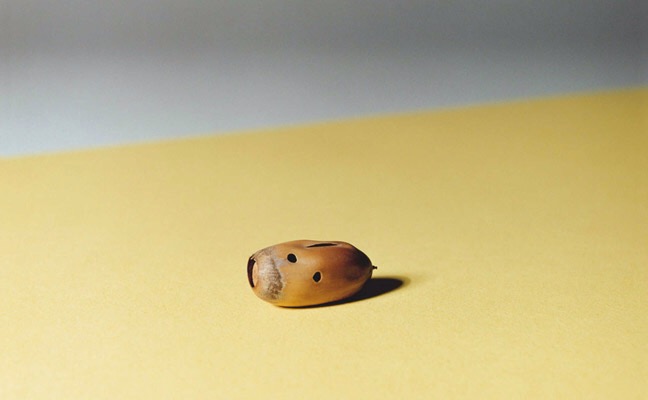 In times like the these when we are flooded with images, it can be challenging for artists to create a photograph that separates itself from the rest. Frequently it's a matter of happenstance. Capturing a found situation at the right moment or discovering the potential of an accidental arrangement — and acting on it. Other times, it's a deliberate act of composition. Tomorrow, the exhibition "Perfect Likeness: Photography and Composition" opens at the Hammer Museum in Los Angeles. In contrast to the dominant focus on serendipitous photography, Perfect Likeness features artists' who work with carefully composed images.
If you're in the Los Angeles area and looking for something something fun and free to do with Dad this Father's Day weekend, the Perfect Likeness exhibition would be an excellent opportunity! One of the featured artists is Thomas Demand. He constructs in three dimensions exactly what he wants in his photograph, omitting any extraneous details. This technique gives his work a somewhat eerie quality. Thomas Ruff's iconic 1980s portraits of his friends and colleagues draw on a long tradition in photography, yet they take that tradition to new levels. Annette Kelm's photographs might show a single object, yet they display her search for the distilled version of whatever they represent. All artists featured in the exhibition accept full responsibility for every detail of their images, offering a powerful alternative to the photographic tradition of the picture that is found simply by chance.
The Hammer Museum is an affiliate of the University of California, Los Angeles. It is one of three public arts units of the School of Arts and Architecture. The Hammer Museum at UCLA believes in the promise of art and ideas to illuminate our lives and build a more just world. Through a commitment to free admission and free public programs, the Hammer is open for all and FREE FOR GOOD.
Hammer Museum – Free for Good
10899 Wilshire Blvd.
Los Angeles, CA
90024
Monday: Closed, Tuesday: 11am – 8pm, Wednesday: 11am – 8pm, Thursday: 11am – 8pm, Friday: 11am – 8pm, Saturday: 11am – 5pm, Sunday: 11am – 5pm
(310) 443-7000 – info@hammer.ucla.edu
~ Linda