Nicholas McGilvray is a talented photographer who shared beautiful images along with lots of great information when he participated in our Photograph your Love® Instagram Takeover. In this follow-up Q&A, you'll learn even more about his gear, his style and his motivation.
Where did you grow up?
I grew up in Santa Maria, just an hour North on the 101.
When did you get into photography and why?
I didn't get into photography until later in my life, but I have always been in love with photos. I'm a very nostalgic person, so even at a young age I loved looking at pictures of my family. I recently came across some photographs I had taken with my parent's Olympus 35mm camera on a field trip in elementary school, and I can clearly remember treasuring them after I got the prints back. In high school I went on a trip to Australia and New Zealand, and I took 10-12 disposable cameras with me. That was probably the first time I can recall being aware that my goal was really to memorialize and document my experiences. I got my first point and shoot digital camera after high school, sometime around 2003 or 2004, and used it endlessly. The computer with all of the photographs I had taken in college was stolen from me, and I think the sense of loss I had from that intensified my desire to document things in my life and help to preserve the memories. I saved my money and bought my first DSLR around 2007, and that was really the catalyst that helped me fall in love with photography beyond simply preserving memories. I was in the Army at that time, living in Tacoma, Washington. I would get off work and grab my tripod and wander around downtown Tacoma and Seattle and take photographs of people and buildings and the streets. These were art to me, I didn't take them for memories sake. Looking back, photography was addressing a void in my life left entirely unfilled by the military. I became quite obsessed with it; I taught myself about the physical aspects of photography by reading about them online. I learned about the rule of thirds. I bought Photoshop and learned to edit a little. I sold my kit lens and bought a 50mm F1.4. I sold my first DSLR and bought a Canon 5Dmkii, which on an Army paycheck was like buying a car for me. I bought that camera in 2010, and still use it constantly. In 2011 I found a man in Santa Barbara selling a 1979 Canon A1, with an amazing 24mm F2.8 SSC lens (all for $50!!!), and my obsession with film began. My photography began to change again around this time. It wasn't enough to preserve memories, or make cool "art". I wanted to meld them. I wanted to take photos that were pleasing artistically and that conveyed emotion to me, photos that when viewed would elicit strong reactions from my intended audience (my friends and family). Film cameras had a hand in this transformation; I was forced to slow down and wait for that decisive moment, to always be metered and zone focused and set. I now almost always carry a camera with me, and I now am almost always looking for my next photo.
How would you describe your shooting style?
I most enjoy photos that contrast the expansiveness of the natural world with humanity, like a silhouetted person walking along an empty beach, or people walking beneath towering trees. I prefer unstaged photographs, a laugh, or a hug, something showing real emotion. When I see something that is visually striking, and I manage to translate it to an image in a way that does the real moment a bit of justice, it can feel like a triumph. I am drawn to clear, sharp, crisp photographs. I like simple compositions. If I have any style, it is a result of my striving to achieve these things. I rarely succeed. But when I stick with it I always end up with one or two images that are worth all the effort.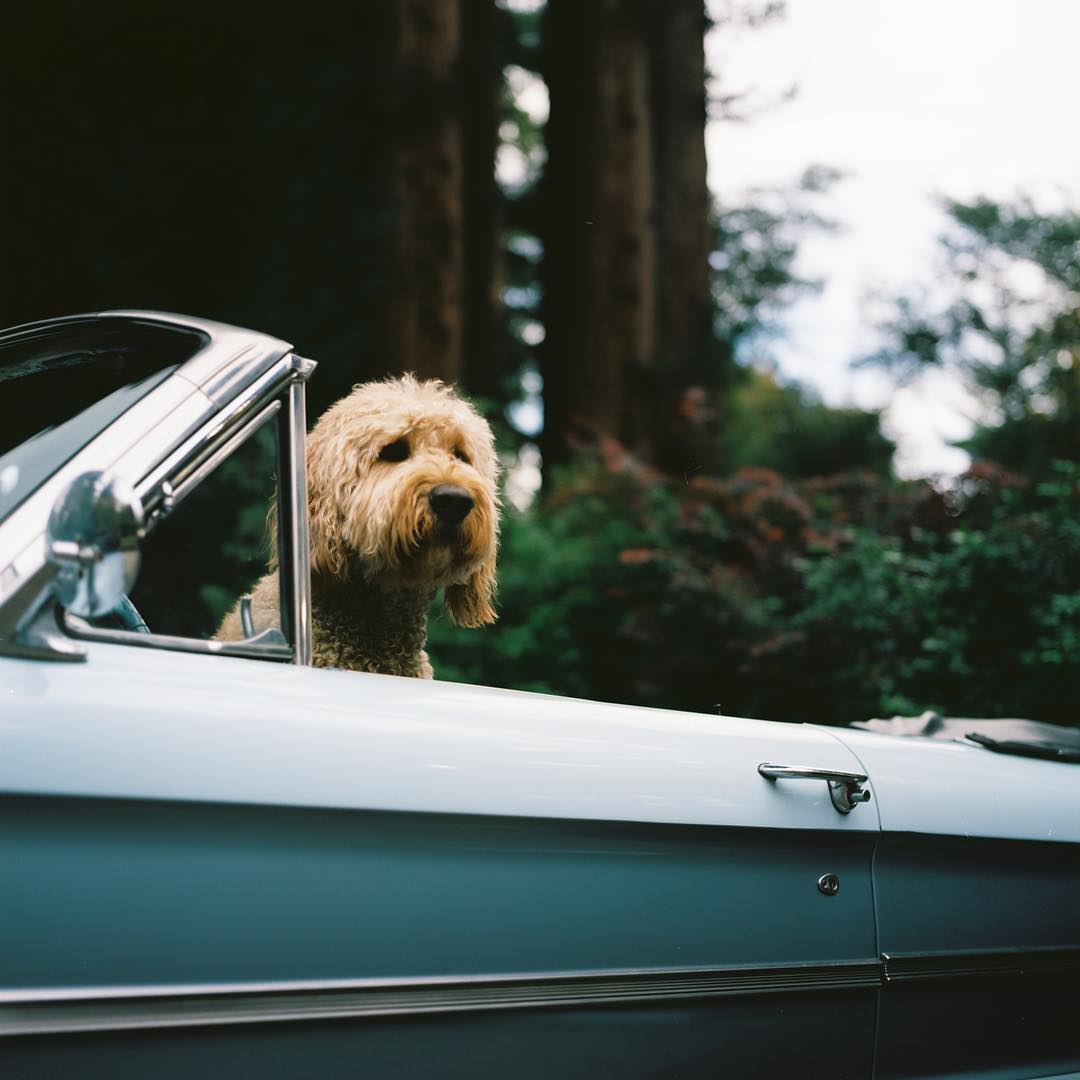 What kind of gear and technology do you use; and how does this influence or impact your work?
It sounds cliched, but I use it all. iPhone up to full frame DSLR, plastic point and shoot 35mm film cameras to a Rolleiflex 3.5f and Hasselblad medium format. My grandfather's Argus. My fiancee's grandfather's Baby Rolleiflex 4×4. There is a bookshelf right by the front door of our apartment that holds all my cameras (much to the delight of my fiancee), and when I walk out I ponder a moment and grab one. Generally its the Hasselblad, I carry the 50mm, 80mm and 150mm and an extra film back with me everywhere. And yes I know that is ridiculous. I most enjoy the Rolleiflex 3.5f I must say. You can't change film stock mid roll, you can't change lenses. So you have to make it work. The shutter is silent, the lens is tack sharp and renders this amazing 3d feel to the images. I love that camera. 120 film and processing isn't cheap. One click of the shutter can easily cost you $2. So I slow down, think, move around, meter, focus, think some more. I enjoy that. The act of taking a photograph with the likes of a Rolleiflex is, for me, the most enjoyable experience I've ever had with a camera. Medium format photographs look different than 35mm. They feel more real to me. So when all the stars line up and you get that one really special photo, that perfect moment, and it's sharp and focused and clear and the composition works, it's just really nice.
What photographer or artist has had the biggest influence on your own photography?
I never studied photography in school and I never took art classes, so I have to say I can't really point to any specific artist that has influenced me. I would have to say the largest influence on me photographically has been social media. There is such an amazing amount of photography being shared every day online, and in every style and medium imaginable.
What motivates or inspires you to continue taking pictures?
I think the most concise answer to that question would be love. My photos really center around my fiancee, my family, and my friends. I don't get out to try my hand at landscape, travel, street, or other "genres" of photography all that often. But I do see my family and friends all the time. I have this vision of retiring and creating a wall in my house entirely devoted to all of my favorite photographs from my life, and enjoying telling stories about the photos, showing them to my children's children, and just generally soaking up the feelings they elicit. That is my motivation.
_______________________________
To see more photography by Nicholas McGilvray, follow him on Instagram @ndmfilm
Each week, a guest photographer takes over our Instagram stream as we spotlight photographers that inspire us…and that we feel embrace the meaning behind our tagline, #PhotographYourLove. As a business that process and prints photos, we see this as part of our mission.
Follow the Photograph your Love® Instagram Takeover @colorservices
​​​