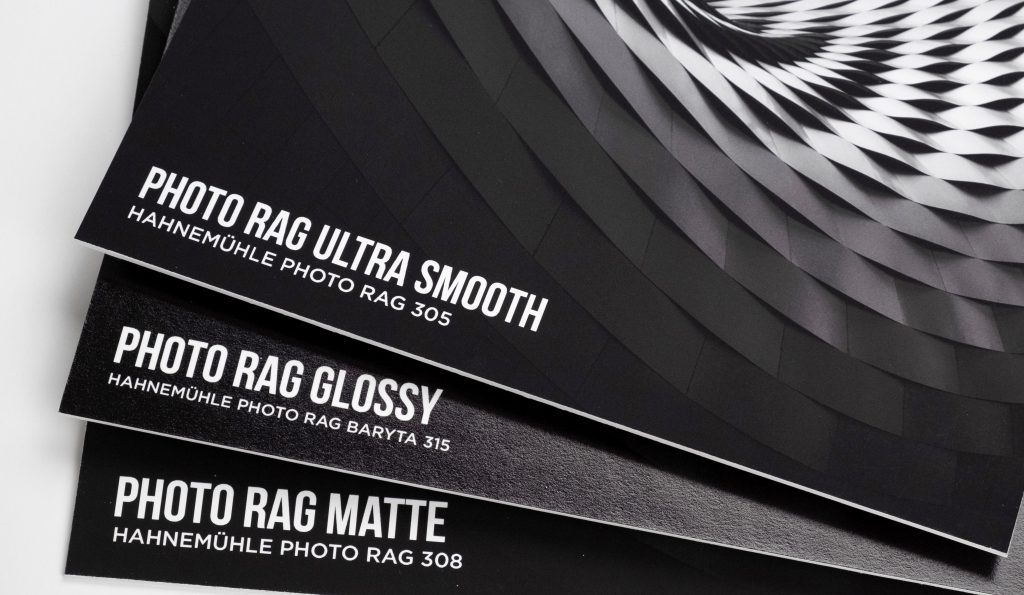 Paper has the power to make all the difference in the prints you make from your photos. I see its impact every day. You are probably accustomed to the photographic prints made at Color Services on classic photo paper, but many of our customers are unfamiliar with Fine art Prints. Today I'd like to explore that option and tell you how printing your special images on Fine Art paper can take them to a luxurious new place.
Fine Art Prints are named as such because they are printed on fine art paper. At Color Services, we produce Fine Art Prints on a large-format inkjet printer using archival ink in a process called "giclée". Giclée (zhee-clay) means "fine spray" and refers to the way the ink is sprayed onto the paper. The paper itself is also archival and 100% cotton. We can take any digital file, be it a photograph, graphic or illustration, and print it on fine art paper to create a Fine Art Print.
The fine art papers used at Color Services are all manufactured by Hahnemühle. We compared many samples to arrive at our collection. Hahnemühle has produced premium papers for more than 400 years —- since 1584! This year, Hahnemühle received the incredibly prestigious German "Brand of the Century" award for its fine papers. These are true artist's papers, manufactured to museum and gallery standards and gorgeous.
We offer Hahnemuhle fine art paper in 3 different finishes:
Photo Rag Matte (308)
Photo Rag Ultra Smooth (305)
Photo Rag Glossy (315)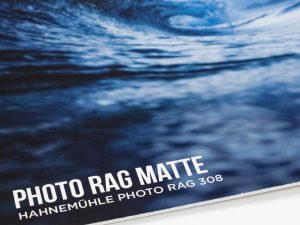 Photo Rag Matte is Hahnemühle's most popular Fine Art inkjet paper and our best seller. It has a slight and glorious texture with the look of watercolor paper. Photo Rag Matte is ideal for printing either black and white or color photos, as well as art reproductions, with impressive depth. With its versatility and universal appeal, this is a safe choice and a good place to start. Photo Rag Matte is absolutely my favorite fine art paper.
Photo Rag Ultra Smooth also has a matte finish, but no texture. It is silky smooth and has a brighter white point. There's a dreamy quality to it. We added this paper to our product line when Will Adler, acclaimed surfing photographer, requested it for printing one of his shows. This continues to be Will's go-to paper and many who discover Photo Rag Ultra Smooth can't live without it!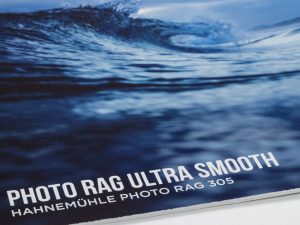 Photo Rag Glossy has a texture and sheen that is very reminiscent of a darkroom-printed black & white glossy fiber based print. Its subtle surface gloss makes magically attractive prints. One of our clients, the exceptional photographer and filmmaker, Morgan Maassen, prefers Photo Rag Glossy for his Fine Art Prints. The gracious paper structure and glossy finish make powerful, expressive prints. This surface also gives a particular "wow" factor to black and white images.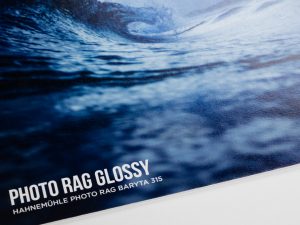 If you've never printed your photos on fine art paper, give it a try. Fine Art Prints will open your eyes to a new world in photographic printing and you're guaranteed to be pleased! Living with your own photos, printed and displayed in your home or office, brings more meaning to life. That's what we're all about here at Color Services…and Fine Art Prints are one of our very special display options. Fine Art Prints can easily be ordered from our website here.