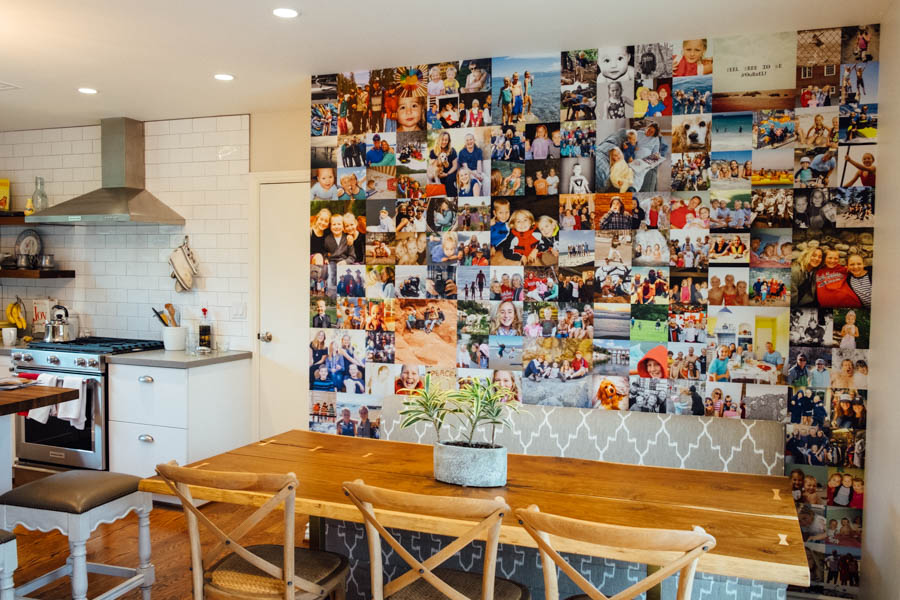 When Amy and Art Tracewell remodeled their kitchen and breakfast area, they wanted to decorate the breakfast room walls in a special way. First they considered family portraits or their children's artwork. Then they discovered an idea they liked better.
Art Tracewell had seen the big photo mural at Color Services that covers one entire wall of the lobby and he sent his wife in to take a look. Amy loved it and decided that was what she wanted for her house! So her family got busy selecting photos. They ended up with 187 images of special family moments. Amy made the mural panels at colorservices.com using our Photo Wall Cling collage templates and we printed her 3 large panels on self-adhesive wall cling material. We have quite a few templates on our website which make it easy to create a nicely-designed collage.
Covering an entire wall with a mural of multiple panels takes installation expertise, so Katherine Reginato, a Santa Barbara wallpaper hanger, was hired for that task. On installation day, Gabe and Glen from Color Services popped in to take a look. They watched as Katherine precisely aligned each panel and pressed them into place. As the collage took shape, it looked amazing! Katherine said it was a treat to install something this special and to see the family's excitement.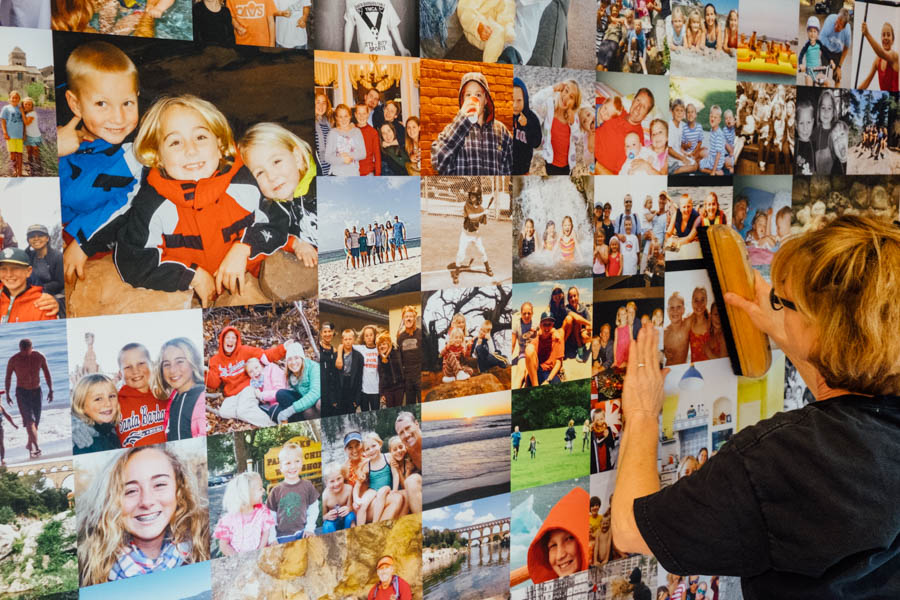 It's now been 6 months since the Tracewells decorated their breakfast room wall with a photo mural so I checked in with Amy for an update. She said her family is SO happy with it! Amy shared that "Everyone who walks in the door immediately gravitates toward it. It seems like we stand in front of it and talk about it with friends every time a new friend comes over. Our family loves to look at all of the photos. We can get lost in it. And the kids have fun finding the picture they think is the cutest of each other when they were little!"
While the prospect of choosing so many photos may seem daunting, Amy said they have so many favorite and classic photos from over the years that it wasn't hard to pick which ones to use. In fact, she said it was a lot of fun! When asked if she had anything else to tell others, Amy said, "The print quality is fantastic. Every picture is so vibrant and clear. We love how it brightened our space with such personal and meaningful memories."
We love to hear stories like this! Our #1 goal at Color Services is to provide photo products that will bring joy to others and enrich their lives. It's so rewarding to receive validation of a mission accomplished! Maybe you have the perfect place for something similar. Wouldn't it be nice to get some of your photos that are tucked away in albums or hidden on hard drives out in view? Click on these links to learn more about Wall Clings and Photo Wall Cling Collages.