If you love photography and enjoy checking out the latest gear…touching and trying new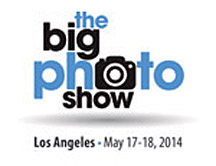 innovations…and even talking to the people who produce them…The Big Photo Show in Los Angeles is for you! The Big Photo Show offers exhibits from many of the top camera, accessory, and software manufacturers. Come and meet companies like Sony, Sigma, Fujifilm, and many others.
The Big Photo Show includes:
Education Theaters. More than 25 photo education sessions where leading photography instructors will share their knowledge on an array of imaging techniques. Classes are available for people of all levels of ability from new photo buffs to advanced photographers. Among the many renowned instructors are Erin Manning from the DIY Network, celebrity photographer Clay Blackmore, and former White House photographer Kevin Gilbert.
Shooting Zone. This area offers shooting arenas where guests can photograph live models side-by-side with professional photographers who will be sharing tips and tricks on posing, lighting, and other strategies to help you get the perfect shot.
Creative Product Zone. Discover things you never knew were possible to do with your images!
Take It To The Wall Zone. Learn about breathtaking framing and design techniques.
Photo Doctor Zone. This is the place to have your equipment problems diagnosed and discover how to take full advantage of everything your camera can do.
Guests at the Big Photo Show LA will be able to take part in Popular Photography and American Photo's live model shoots, alongside photographers from those iconic publications. The event also welcomes PMDA's Portraits of Love, which will be photographing loved ones of active duty military members onsite, then sending those portraits to men and women serving our military…all at no cost.
Dates & Time: May 17-18, 2014, 10am – 6pm
Fee: $25, adults; children under 14 free
Location: Los Angeles Convention Center, 1201 South Figueroa Street, Los Angeles, CA
Remember to take your camera! For more information, go to www.thebigphotoshow.com
_______________
Color Services welcomes submissions to this blog. Topics of interest include photo shows, art shows, community happenings, diy photo projects and photo stories. Contact linda@colorservices.com.