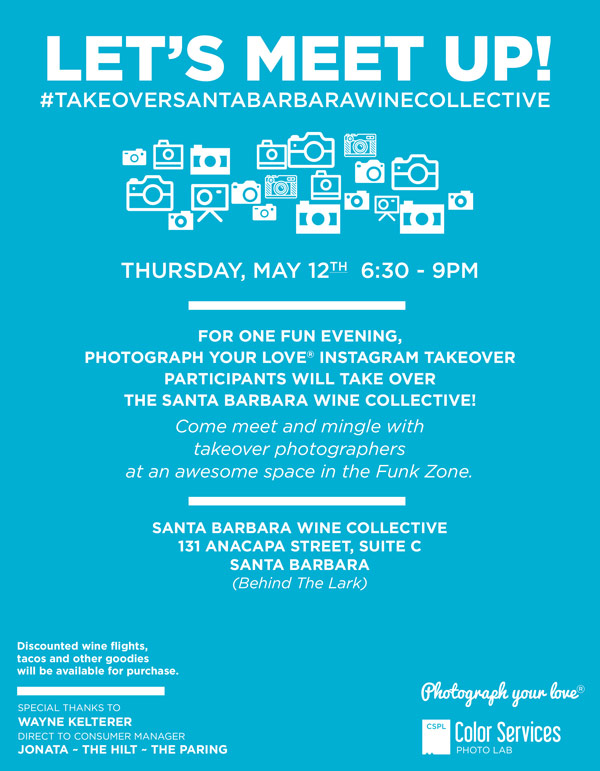 For more than a year, the Photograph Your Love® Instagram Takeover has been going strong @colorservices! We started the takeover as a way to nourish creative photography. Each week, we feature a different guest photographer from our client list who "takes over" our Instagram feed to share their work. Every day you can go Instagram @colorservices and count on seeing an extraordinary new image. Since we're in the business of printing and processing photos, we see inspiration as part of our mission. The takeover has been wildly successful, our following continues to expand and those who've participated have earned lots of new fans.
The thing about Instagram is that the connection is always virtual and we thought it would fun for everyone to have a chance to gather and chat in person. So we planned a "meet-up"!  It's happening on May 12th at the perfect place — the Santa Barbara Wine Collective in the Funk Zone. Our friend Wayne Kelterer from Jonata Winery hooked us up with the location, and now we're excited to have our dream coming to fruition!
The event is open to all and a good time is guaranteed! Color Services will hang a display of photos on the wall, but best of all will be the company of fellow photographers and the chance to meet the people behind some amazing work on Instagram. Discounted wine flights, tacos and other goodies will be available for purchase.
We hope you'll join us on May 12th from 6:30 to 9pm when the Photograph Your Love® Instagram participants take over the Santa Barbara Wine Collective! The Santa Barbara Wine Collective is located at 131 Anacapa Street, Suite C (behind The Lark).
Follow along with the Photograph Your Love® Instagram Takeover @colorservices!