When Holly Westhoff approached Color Services to contribute two 30×30-inch Hipstamatic prints to a Habitat for Humanity of Greater Los Angeles project—we were right on board! Habitat for Humanity builds and rehabilitates homes in order to help hard-working, low-income families move out of substandard housing and get on a permanent path out of poverty. In these challenging economic times, Habitat for Humanity needs donors—and volunteers—more than ever.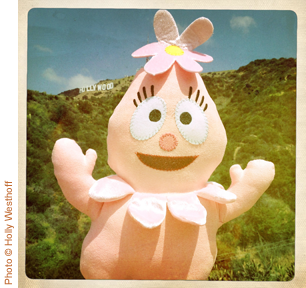 Holly, aka "The Almost 40 Year Old Intern", was also donating to the project: She had been approached by a company named Wildbrain Entertainment asking if she would be a contest prize in a partnership between Habitat for Humanity of Greater Los Angeles and the popular childrens' TV show, Yo Gabba Gabba! Needless to say, she was flattered beyond belief and agreed. When the contest ended, the lucky recipient of Holly's interior design services was a single mom with three children. Holly was to design a bedroom for two little girls that are huge Yo Gabba Gabba fans. Fun!
The fruits of Holly's labor were finally revealed last week! The 30-inch HipstaPrints from Color Services prominently display Foofa and Brobee over the girls' beds. Every detail in the room is all about Yo Gabba Gabba including incredible mosaics made from hundreds of hand-placed stickers.
If you'd like to decorate with Hipstamatic prints like Holly did, prints can be purchased right from the Hipstamatic app on any iPhone…or online at HipstaMart.com. The order will come right to Color Services—because we're the official print lab for Hipstamatic! We'll print your pics on beautiful photographic paper and ship them to your door!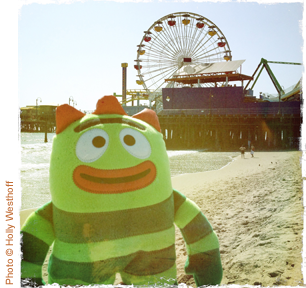 Holly has generously shared her DIY advice on the entire process here. Be sure to check it out! She gives tons of tips, including where she parked to get that great shot of Foofa by the Hollywood sign!
Color Services loved being part of this awesome project. I only wish we could have seen the faces of the two little girls when they saw their new room. I'm sure this dream-come-true environment will enhance their childhood and help keep them on track for a bright future.
To learn more about creative interior design services from "The Almost 40 Year Old Intern", click here.