The team at Outside Open is a great group that provides IT support and technology consulting services in Santa Barbara. They're the "go to" people for Color Services, but it goes deeper than that. Outside Open's co-founder, Greg Lawler, is part of the very fiber of Color Services. He keeps us going when the going gets tough and helps us succeed. We like having him around so much that we gave him his very own desk! He is also an inspiring photographer whose creative imagery is used on many of our in-store and online display pieces. It's obvious by the way he shares his photography that Greg is a very giving guy. I remember when the devastating Haiti earthquake happened in 2010 and Greg immediately stepped up to the plate. He used his techno-skills to create a fundraising website called PrintsforHaiti.com, partnered with Color Services for the printing, and donated all proceeds to Haiti's reconstruction effort.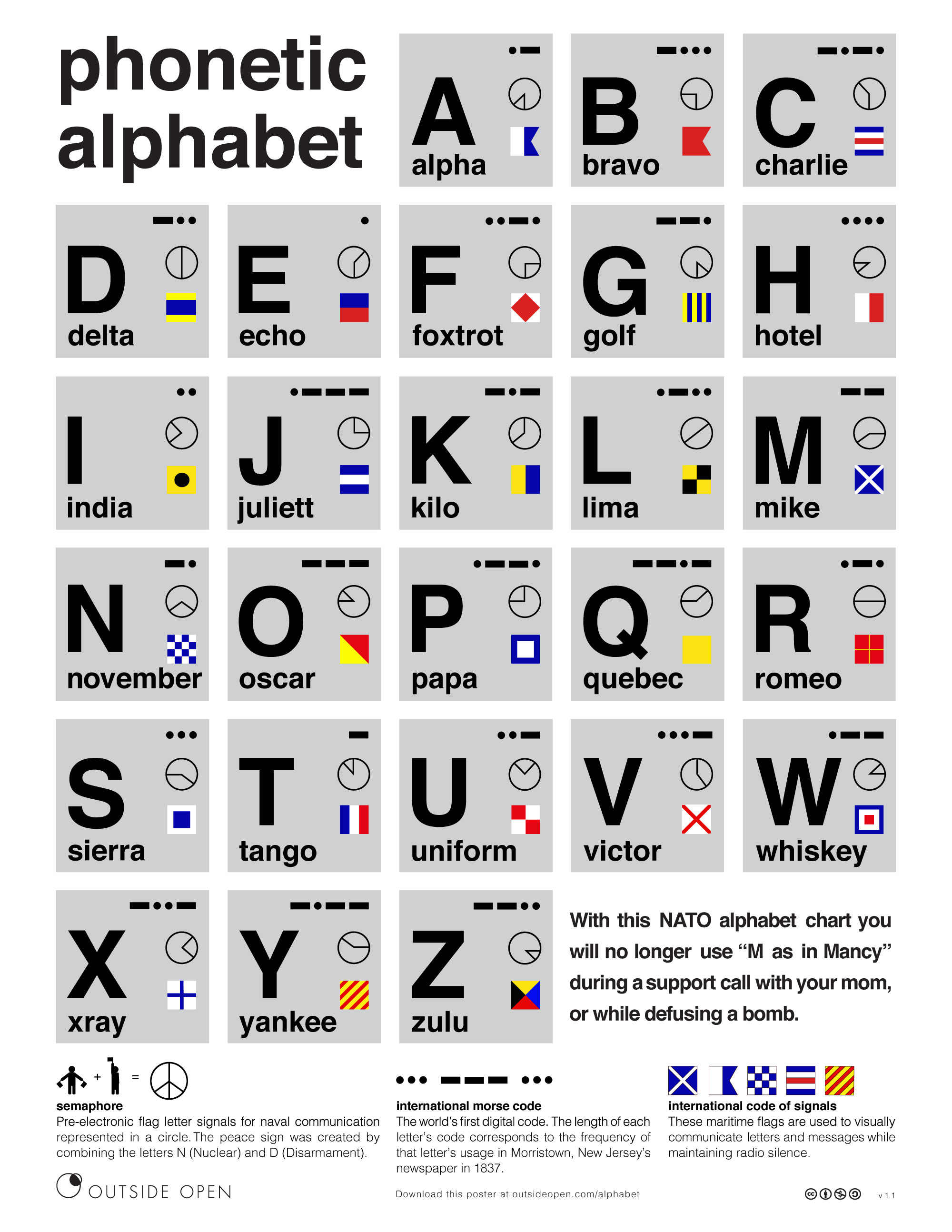 Now Greg and his team are at it again — giving back. Inspired by their love of functionality and industrial design, Greg Lawler, Chris Ragland and Katherine Wang pooled their skills and collaborated to design the coolest poster! It's a fresh take on the NATO Phonetic Alphabet (or …. International Radiotelephony Spelling Alphabet). Besides the phonetic alphabet, they've included other useful tools including Morse code, naval semaphores and letter flags.
Color Services has partnered with Outside Open on the NATO Phonetic Alphabet Poster project, and for a limited time, we're donating the printing (with love). You will receive an awesome poster on premium 110 lb cardstock from our new high-speed Konica Minolta bizhub press. The poster is free – you can pick one up at Color Services Photo Lab at 230 Cota St, Santa Barbara, CA or you can order one and just pay $5.50 to cover S&H. Order your Free NATO Phonetic Alphabet Poster here!

~Linda